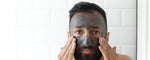 Vaishnavi coffee is made with premium quality Robusta beans that contain double the amount of caffeine.
Did you know that caffeine is beneficial to skin health? Freshly ground coffee beans contain higher levels of antioxidants and are therefore very good for your skin. It is also said to reduce cellulite and smoothes skin texture.
Try this easy DIY coffee scrub that exfoliates, replenishes and rejuvenates your skin!
Ingredients:
1 cup ground Vaishnavi coffee
1 cup organic brown sugar
1/2 cup  organic coconut oil
1/2 tablespoon cinnamon (optional)
1 tablespoon pure vanilla extract (optional)
Instructions:
Melt coconut oil and allow it to cool but not solidify.
Mix all ingredients together and store in an airtight container or mason jar.
Use twice a week for best results.