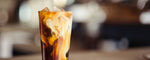 Are you thinking -  what an odd combination?!
Well, it tastes absolutely divine. Comes together in minutes and leaves you thinking about it for days!
Ingredients:
 2 teaspoon Vaishnavi coffee powder
1 cup chopped banana
½ cup whole milk
2 cups vanilla ice-cream
 8 ice cubes 
Method:
Combine all ingredients in a blender and blend till silky smooth.
Pour into individual glasses.
Add more ice cubes if you feel fancy.
Drink!